Pre-Existing Merchant Accounts
Using Your Own Merchant Account for Credit Cards
RSI recognizes that some businesses may have a pre-existing solution for credit card processing. This scenario continues to provide integration with your ChildWatch
®
account.
In order to accommodate this scenario, instead of using both our acquirer and gateway, you will use only our gateway to process CC transactions. Your existing acquirer will need to build a "var sheet" for one of the following compatible gateways:
First Data (Nashville)
Elavon (Nova)
Tsys (Vital)
Vantiv (IBM)
Note that this option applies for credit cards only. If you wish to accept eChecks as well, you will need to open an RSI merchant account for eCheck only.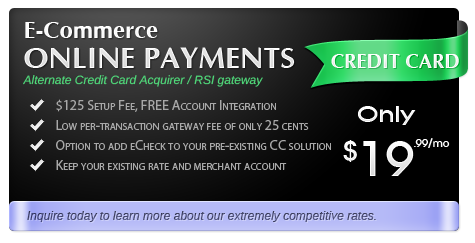 Get Your Money Faster
The more ways you provide for parents to pay their bills, the more likely you will get paid on-time! Combined with eServices, our ePay service allows your clients to pay from multiple accounts using any computer or mobile device at their convenience.
Fully-integrated Processing
ePay is fully integrated with your ChildWatch® account. Each transaction posts directly to the client ledger and updates the balance to provide detailed transaction reporting.