In 1965, our nation made a commitment to open a window of opportunity for at-risk children through "Project Head Start." Head Start was launched by President Lyndon B. Johnson to provide comprehensive health, nutrition, and education services to children living in poverty. Over the last 53 years, more than 33 million children have benefited from Head Start's unique approach, which is built on the premise that every child, regardless of circumstances at birth, can reach their full potential.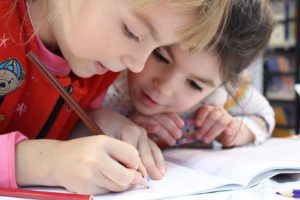 Today, Head Start serves more than one million children, families and pregnant women each year on their path to success.  Those persons served are in centers, family homes, and in family child care homes in urban, suburban, and rural communities throughout the nation.
Head Start alumni have gone on to become business owners and artists, musicians and doctors, teachers and members of Congress, and exceptional sons, daughters and parents. Those who have been touched by this program know the reality of how a head start in life can help lead to success.
The Head Start model is built on evidence-based practices and is constantly adapting—using the best available science and teaching techniques to meet the needs of local communities.
The four major components of Head Start are:
Education
Creating a variety of learning experiences to help children in many areas such as language, literacy, and social and emotional development.
Health
Providing health services such as immunizations, dental, medical, and mental health, and nutritional services, and early identification of health problems.
Parent Involvement
Engaging parents as equal partners with their child's teacher. Parents serve on policy councils and committees that make administrative decisions; participate in classes and workshops on child development; and volunteer in the program. Head Start emphasizes the role of parents as their child's first and most important teacher. These programs help build relationships with families that support family well-being and many other important areas.
Social Services
Provide outreach to families to determine what services would benefit them.
By providing a Head Start Awareness Month flyer,you can share the benefits of the program with members of your community.
Many Head Start programs also provide Early Head Start, created in 1996, which serves infants, toddlers, and pregnant women and their families who have incomes below the Federal poverty level.
The Benefits of Early Head Start Programs
Early Head Start (EHS) programs provide family-centered services for low-income families with very young children. These programs are designed to promote the development of the children, and to enable their parents to fulfill their roles as parents and to move toward self-sufficiency.
EHS programs provide similar services as preschool Head Start programs, but they are tailored for the unique needs of infants and toddlers. These programs promote the physical, cognitive, social, and emotional development of infants and toddlers through safe and developmentally enriching caregiving. This prepares these children for continued growth and development and eventual success in school and life.
Following the general Head Start model, EHS programs support parents in their role as primary caregivers and teachers of their children. Programs assist families in meeting their own personal goals and achieving self-sufficiency across a wide variety of components, such as housing stability, continued education, and financial security.
Early Head Start-Child Care Partnerships Created
The Early Head Start – Child Care (EHS-CC) partnerships were created by the FY 2014 Federal budget bill, which provided $500 million to the new program. The funding for Early Head Start-Child Care Partnerships provides an exciting opportunity for communities to expand access to high-quality early care and education for low-income children and families.
Child care providers who participate in the Child Care Development Fund (CCDF) and Early Head Start/Head Start programs have been working together for many years to meet the needs of children and families. The Early Head Start-Child Care Partnership (EHS-CCP) initiative brings together the best of Early Head Start and child care to provide comprehensive and ongoing services to low-income infants, toddlers, and their families. EHS-CCP enhances services and supports to families by providing strong relationship experiences and preparing them for the transition into Head Start and preschool.
Integrating EHS services and resources into the range of traditional child care and family child care settings creates new opportunities to improve outcomes for infants, toddlers, and their families. Child care centers and family child care providers respond to the needs of working families by offering flexible and convenient full-day and full-year services.
Resources Available through Partnerships
Together, all children in classrooms with the Early Head Start-Child Care Partnership benefit from low teacher-to-child ratios and class sizes. Qualified teachers receive ongoing supervision and coaching to implement curriculum and provide responsive care and extensive parent engagement activities. All infants and toddlers at these centers benefit from facilities and homes that are licensed and meet safety requirements.
Program resources are maximized across Early Head Start and Child Care Development Funds to support effective partnerships between centers and families.  These relationships expand early learning opportunities for working families so that low-income children have the healthy and nurturing experiences they need to realize their full potential.
The resources now available through these partnerships help prepare infants and toddlers for early success in school and in life, through:
Developmental and behavioral screenings;
Services that promote safety, nutrition and healthy development;
Individualized, exceptional adult-child interactions; and
Support for the early education staff to build skills and capabilities that support child development.
Learn more about Early Head Start with the Early Head Start Fact Sheet and additional resources available.
Interested in childcare management software?  To learn more, visit our website.